We all know how these usually go. You begin with gusto and do a wonderful job for a month or two if you're lucky. I am hoping it goes a
little
better for me this year that's why I'm putting it on my blog. How's that for accountability?!?! Here we go:
1. (and this one may sound crazy to y'all) Put make-up on in the house before I get into the car.
2. Memorize 24 Bible verses with Beth Moore and the other Siestas. (for more info click
here
.)
3. Get organized. I'll be joining in A Bowl Full of Lemons' 21 day challenge. You can get the info for that
here
.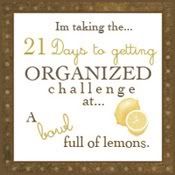 4. Lose that extra 10 pounds left over from Baby Connor.

Do you make New Year's Resolutions? If so, what are they?