Okay, so here we go...on to day 16.. I can't believe we only have 5 challenges left. Well, I have 6 because I STILL haven't gotten up the nerve to go into the laundry room! It's a BIG job!!! I'll get there...eventually.
Before
It's a mess, but a semi-organized one.
I've cleaned everything out and wiped it down. (including shelves and drawers) I sure hope I can remember how to put it back together. I never even knew all of those things could come out of my refrigerator. I used water and vinegar because all this talk about chemical-free cleaning, especially in the fridge, has gotten to me. FYI, vinegar and water SMELL LIKE VOMIT!!! Or maybe that's because we've had the stomach bug running rampant in our house the last week and I can't get the smell out of my nose. Sorry if that was TMI just trying to keep it real... Anyway, on to the end result.
After
Looking pretty good if I do say so myself!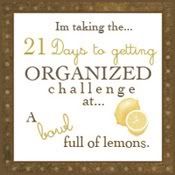 Oh hey, remember that shrimp I found in the freezer last week? Well, I defrosted and peeled it and make gumbo tonight. It wasn't too bad for my first try. Here's a pic...
Looks purdy dern good, eh?!?!